2022 year review
01/09/2023
01/09/23
It may take you
7
minutes to read.
Personal
I go more in to detail at the end
Pixelatl Detrás del Pixel
D&D
Trip to England & Portugal
Work
Streaming guide
Built a component library
Built an app with Remix.run
Things I enjoyed this year
Books
Masters of Doom - David Kushner
Fevre Dream - George R.R. Martin
The Rise of Kyoshi - F.C. Yee , Michael Dante DiMartino
The Way of Kings - Brandon Sanderson
Tomorrow, and Tomorrow, and Tomorrow - Gabrielle Zevin
The Anthropocene Reviewed - John Green
Games
Elechead
Sly The Spire
Elden Ring
Mario Strikers
TV Shows
Better Call Saul S06
Our flag means death S01
Winning Time: The Rise of the Lakers Dynasty S01
Andor S01
White Lotus S02
Marvelous Mrs Maisel S04
House of dragon S01
The Expanse S06
Formula 1 S01 - S04
Harley Quinn S01 - S02
The Bear S01
Atlanta S03
The Great S01
Severance S01
Hacks S02
Landscapers S01
Bad Sisters S01
The City Is Ours S01
Movies
The Banshees of Inisherin 2022
Twin Peaks: Fire Walk with Me 1992
There Will Be Blood 2007
Everything Everywhere All at Once 2022
Magnolia 1999
The Master 2012
Men 2022
Guillermo del Toro's Pinocchio 2022
Nightmare Alley 2021
Nope 2022
Hustle 2022
Podcasts
YouTube
TTRPG
Games
Godot
Music
Personal In depth
Don Salmon is a new game I'm creating with Jp at  Amano. There are a lot of things I could say about this project, which I want to flesh out more on its own devlog, so here I'll just say the highlights are:
Using Godot 3.x for a 2D pixel art game
Learned/practiced my shader skills
Managed to make a Combat system that we like
Reinforced all we have learned with Pullfrog for a bigger game
We have used LDtk for a couple of projects now, the biggest one being Don Salmon and one of the things I want to do is to port the game to Godot4, the first step was to port the LDtk importer that we have been using for the past year to Godot4, I'm really happy with the result.
I have been using Mastodon for 4 years now and with the recent Twitter migrations my Timeline became quite noisy, so I made this tool to help me organize people/accounts on a list that make it easier to catch up with my Mastodon timeline. Some interesting things.
I made all the design/color schemes, and I really like it.
Used all the things that I have been learning and practicing at my web-dev day jobs and managed to make something I'm happy with, it's nice to be remained that all the time spent working on other people's projects also helps me on my own things.
Pixelatl Detrás del Pixel
I attended with Pepehxc and recorded hours of audio footage to make a new DDP episode, I'm excited to see the result when I have the time to go through all of it and try to make a cohesive thing.
One of my favorite things to work with this year was shaders, it's something that I have wanted to get good at since I started making games, but I feel it wasn't until this year that I was actually able to do something I was proud of.
I almost forgot this happened in 2022, it was hard! Talking in public in English is something I want to become better at, but I think it went well! I enjoyed GDC a lot more this year, in part because I had something to do and once it was done I could chill and not feel the pressure of having to work at GDC.
I also took the Pullfrog 2Bits demo to GDC and people seemed to like it a lot, so that was nice as well.
My relationship with San Francisco and GDC in general has changed a lot since the first time I went there. Now I have family and friends living there, so it feels like I can do a bunch of stuff and not only dedicate myself to be stressed about the Game Dev community around me.
Second or third time in Reboot, still one of my favourite GameDev conferences and ended up having a booth at the last minute, it was really nice to see people playing Don Salmon and having the general feedback that It feels good which has been the main focus for the past months. Also, Henry and the team Newfangled games won a ton of awards, and it was nice to be there and celebrate with them. Additionally, I caught up with Rene and we talked a lot, it was a lot of fun!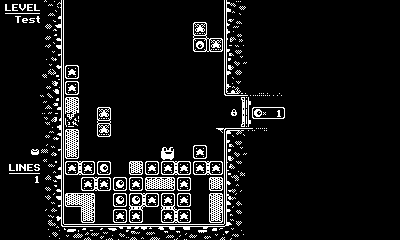 This is one of those things I hope I write a bigger devlog about, but some thoughts:
I'm really happy with how the game plays. It's fun, it feels good and it has the level of polish we like on the games we work on.
There are some issues, mainly performance issues, that took out the momentum from us to keep working on the game.
I would like to finish it, but probably will finish Don Salmon first.
Didn't do anything else with PICO-8 this year, I will try to change that for next year.
One of my goals was to migrate my personal website to Next.js, that didn't happen, but I did it for Detrás del Pixel website, so migrating my site will be a really similar process.
One thing I wanted to achieve this year was to do something with C, after this little prototype I don't know if I still want to do something with C or at least not until I have a better project for it, but it was nice to play around with C and realizing I could do a bigger project if I really wanted to.
D&D
I got obsessed with D&D, watched a bunch of videos, read a lot of articles and played on three campaigns, two as a DM and one as a player.
I really like it, since it has become a good activity to do with new and old friends.
Trip to England & Portugal
This year I traveled to Madrid -> London -> Norwich -> Cascais.
In Madrid, I only stayed for two nights, but I liked eating tapas in the middle of the night, catching up with a new friend and having a nap in the middle of the day.
In London, I liked the Full English in the Black Penny, having dinner at an Indian restaurant dressed like an improvised fancy Zorro, traveling through the Victoria Line each day, chasing a mouse on our Airbnb and drinking cider whenever I could.
In Norwich, I liked feeling the Flint all around the city, drinking coffee at Kofra, having Sunday roast with the Hoffman family, having breakfast at the Hashery and watching Bad Sisters with sly midnight pizza.
In Cascais I liked eating a 'pastel de nata' every day, drinking three espressos most of the days, going to Sintra and the inverted tower in the rain, eating PiriPiri chicken with family, eating at Domingo's and walking through the white streets of Portugal.